Dear Jen
After weeks of working and planning, we're ready to introduce our Dear Jen monthly program.
If you've already received your copy of Jen Kingwell's fabulous book, you know that there are SO many setting options for the blocks in this book. You can choose to make just one each of all the blocks or you can commit to making 3 of each block to create the cover quilt which finishes at 90" square. Other setting options range from 72" square to 102" square--so lots of choices.
The blocks in the quilt feature Jen's quirky, original style with lots of totally new blocks, some applique, curved piecing and more.
We're offering this program in THREE colorways and in your choice of inspiration fabric packs that you can combine with your stash or complete fabric packs featuring enough fabric each month to make the cover quilt. (Of course, you can put the blocks together using any of the setting options if you dive in and then fall in love with a different plan.)
You'll need the book for the patterns. Order it
here
.
Then decide which colorway you want to focus on. We'll offer a fun "Jen's colors" options as shown on the cover featuring lots of bright, fun fabrics paired with low volume backgrounds, greys and blacks.
We're also offering a Tilda version that will combine lots of Tilda lines with other blenders, paired with a huge array of soft, low volume whites, creams, greys and taupes.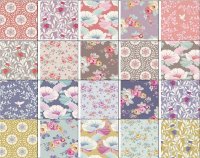 And finally, we're offering an 1800s version mixing the coming reprint of Di Ford's Cloverdale House and Nana's Flower Garden from Max and Louise along with lots of other great 1800s fabrics in the shades featured below paired with shirting prints for backgrounds.
All of our fabric kit options will run for 12 months, starting in January, 2021.
With the Inspiration option you will receive an assortment of 12 different 10" x 10" squares each month to pair with your own fabrics and build the quilt of your dreams.
With the Complete option, you'll receive 20 different 10" x 10" squares each month which should give you ample choices to make all the blocks needed for the largest version of the quilt. (NOTE: If you choose an option with sashing, that is NOT included in the kits but we would be happy to help you find a great choice.)
Pick your colorway & option and order
here.


The first kits will ship in mid-late January, 2021.
As always, feel free to email us to add this to your existing shipments if you are already enrolled in a monthly program.